TYPE OF SAREE
A brief description of the different types of sarees
Swarnachari & Baluchari Silk Sarees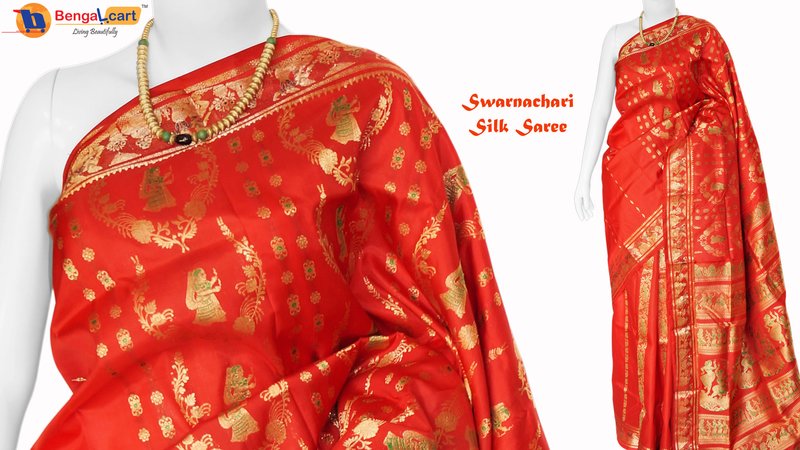 Baluchari Saree is a type of sari worn by women across India and Bangladesh. Baluchari Saree locally called Baluchari Sari originated in Bengal and is known for depictions of mythological scenes on the Pallu of the sari. Presently Bishnupur and its surrounding places of West Bengal is the only place where authentic Baluchari sarees are produced. Producing one sari takes approximately one week or more. Patronized by Nawab of Bengal in the eighteenth century, the craft of Baluchari weave flourished under the patronage of Malla kings. The influence of temples that were the achievement of these rulers is seen in Baluchari sarees
as the mythological stories depicted on the walls of these temples are woven on their pallu and border. Long and tedious, the process of making Baluchari sarees includes cultivation of cocoons, processing the yarns and making motifs using the technique of Jacquard weaving where two craftsmen work for almost a week to produce one sari. The main material used is silk and the sari is polished after weaving. With the changing time, while baluchari silk saree gets a makeover & a touch of eco-friendliness in terms of the used yarns & colors, not much has changed in the method of weaving. A sign of aristocracy, while Baluchari saris were mostly worn by women from upper class and Zamindar (landlords) households in Bengal during festive occasions and weddings, today owing these sarees make a status symbol for women all over.
The Baluchari Saree has been granted the status of Geographical Identification in India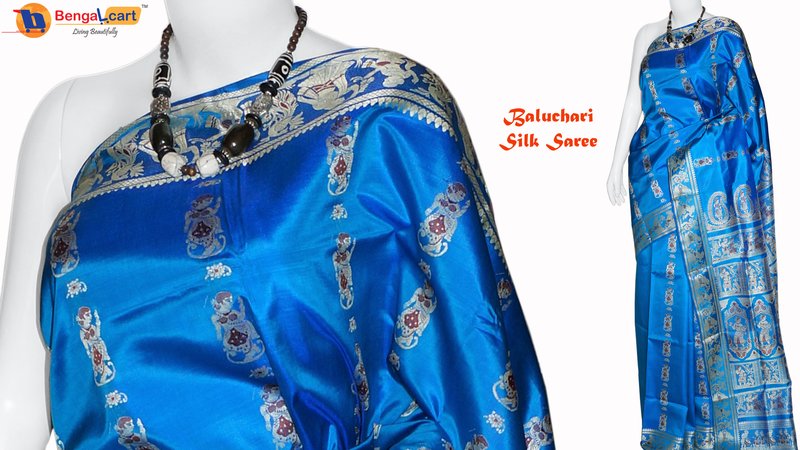 Motifs - Themes and Variety:
Baluchari saris often have depictions from scenes of Mahabharat and Ramayana.
Balucharis can be broadly categorized based on the threads used in weaving the patterns:

* Baluchari: The most common balucharis have threads in 1 or 2 colours to weave the entire pattern
* Baluchari (meenakari): Sometimes, balucharis have threads in 1-2 colours along with attractive meenakari work in another colour that further brightens the pattern
* Swarnachari (baluchari in gold) also called Swarnachuri: The most gorgeous balucharis are woven with gold coloured threads (sometimes interspersed with a bit of silver) that illuminate the patterns to a much larger extent.
Click Here to Shop Baluchari Sarees
Kantha Silk Sarees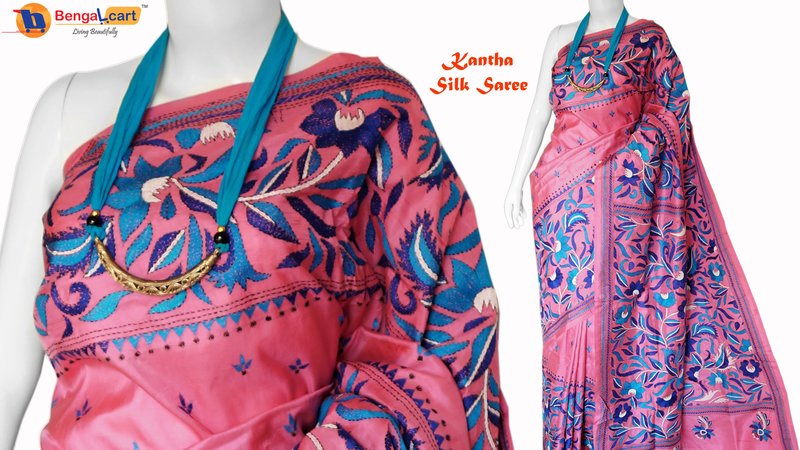 Kantha is one of the oldest form of embroidery popular in Bangladesh and in West Bengal, India. The use of kantha is popular in Kantha sarees traditionally worn by women in Bengal, but any garment or cloth with kantha embroidery, predominantly having a border of decorative running stich motifs, may be called a kantha garment. Kantha originated from the way in which Bengali housewives mended old clothes by taking out a strand of thread from the colorful border of their saris and making simple designs with them. Kantha embroidery portrays beautiful motifs and designs as it draws inspiration from day to day activities resulting in a close mesh of design in the form of beautiful flowers, birds and animal motifs or human figurines or even simple geometric patterns. The colored silken threads that run through the saree forming these lovely patterns are a treat to view. Eventually as Kantha embroidery gained cultural and religious significance, Kantha sarees gained popularity in religious ceremonies and pujas and auspicious occasions like wedding. Kantha Silk Sarees are exemplary with its artistic beauty and each saree is a work of art.
Click Here to Shop Kantha Silk Sarees
Bishnupuri Silk Sarees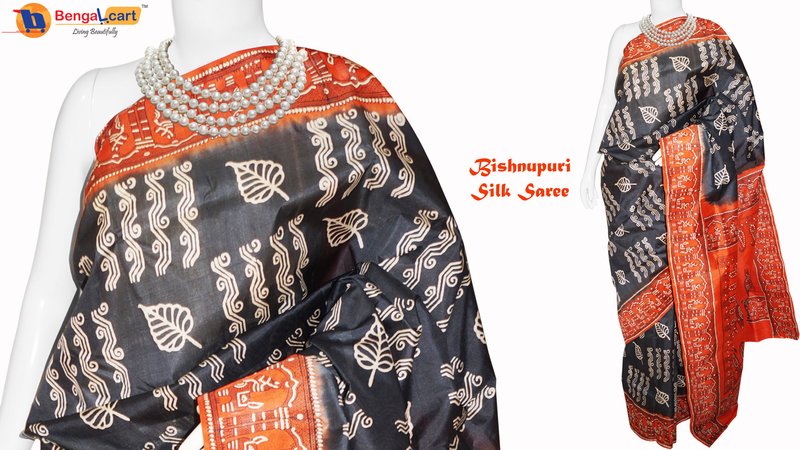 Bishnupuri silk sarees are woven in and around Bishnupur in West Bengal - INDIA. Bishnupuri Silk Saris are made in finest silk. Adorned with striking traditional motifs inspired by the ancient terracota temples of the region, Nature, rural lifestyle are some. There is also fusion of modern geometric motifs and contemporary art which makes Bishnupuri Silk Sarees or Bengal Silk Sarees a work of art and exceedingly beautiful. Bishnupuri Silk Sarees comes in different colours and designs and enhances the beauty of the wearer.
Click Here to Shop Bishnupuri Silk Sarees
Jamdani Sarees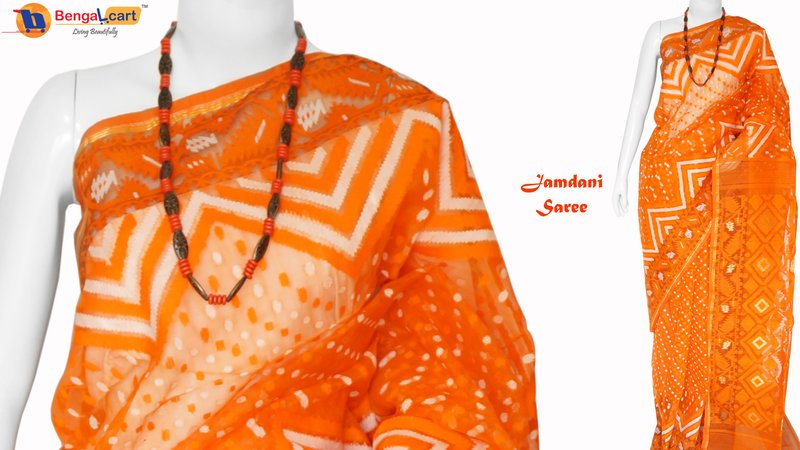 Jamdani Sarees: The word "Jamdani" is of Persian origin- 'Jam' meaning flower and 'dani' means vase. Made popular during the Mughal rule in Bengal. Jamdani sarees are characterized by its transparency weaving technique and rich floral motifs. One of the finest handloom sarees from Bengal.

Bengal Cotton Silk Saree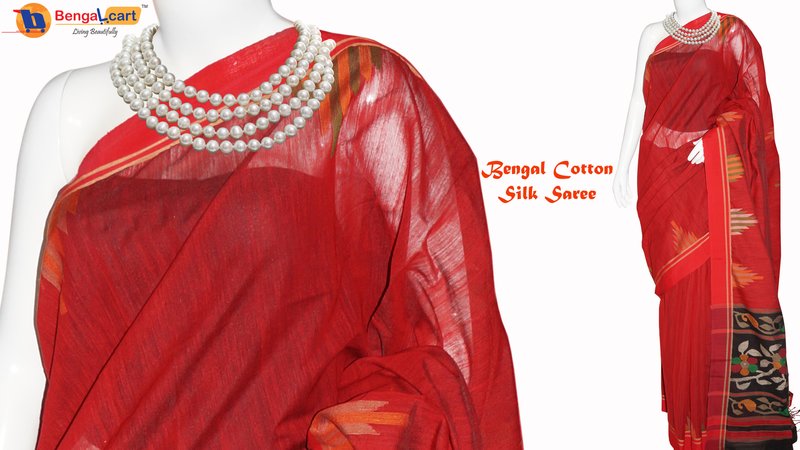 Bengal Cotton Silk Saree: Made of blend of cotton and silk, this sarees bring about the comfort of cotton with the premiumness of silk. Suitable for wearing in all occasions.
Click Here to Shop Bengal Cotton Silk Sarees
Khesh Cotton Sarees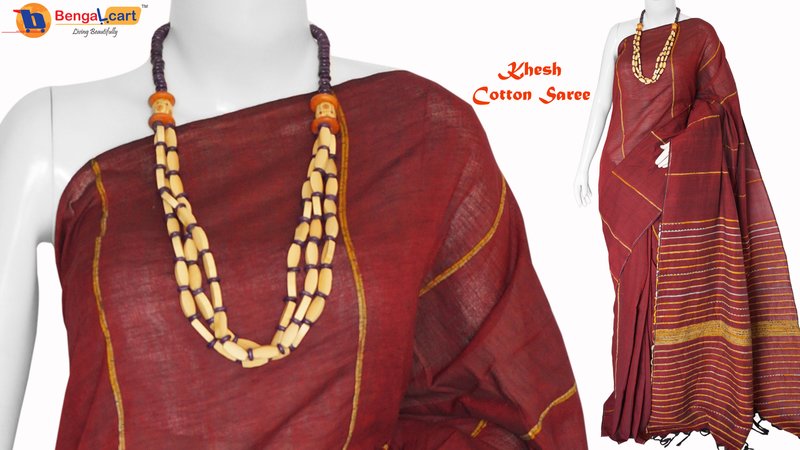 Khesh Sarees are unique rendition of craftsmanship. In this process of Khesh weaving, the warp is with yarn of a particular colour and the weft is with strips of thin cloth usually randomly selected in terms of its colour & texture. Because the weft is unpredictable, the pattern that gets created is never know fully till the weaving is completed and that is the beauty of a Khesh saree. There is always a surprise element with the weaving technique of this sarees. A unique art form in Birbhum district of Bengal, this process of weaving was started in Shilpa Sadan in the early 1920s. This was the vocational training centre that Rabindranath Tagore had set up in Sriniketan, adjacent to Shantiniketan. The process of weaving lends unique texture and look to the entire saree. Extremely comfortable to wear in the Indian summers, this sarees lends an chik look & feel to the wearer.
Click Here to Shop Khesh Cotton Sarees
Tant Cotton Sarees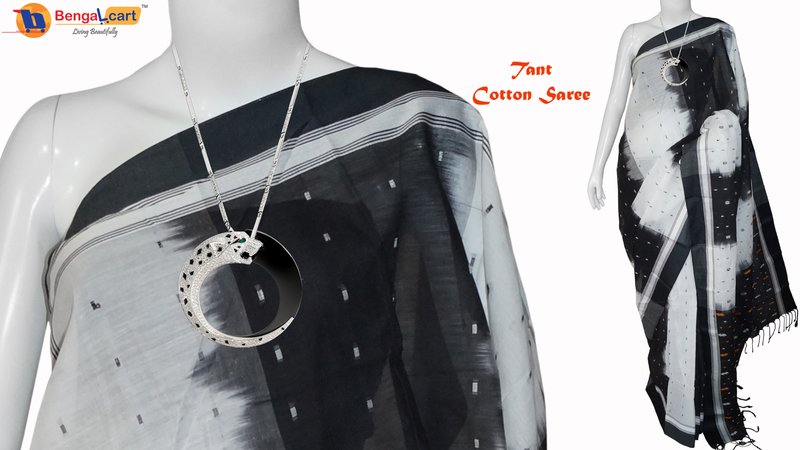 Tant Saree is a traditional Bengali Saree and usually used by Bengali women. Tant Sari traditionally made by the weavers from all over West Bengal and Bangladesh but typically few places like Murshidabad, Nadia, Hoogly of West Bengal and Dhaka, Tangail of Bangladesh are famous for Tant weaving. Tant saree are woven from cotton threads and distinguished by its lightness and transparency. It is considered to be the most comfortable saree for the Indian hot and humid climate.
Weaving of tant saree is famous and an age old crafting of West Bengal and Bangladesh. The craftsmen deftly weave the cotton to thread which is woven to tant saree.
Themes and Motif
The typical Tant saree is characterised by a thick border and a decorative pallu, woven using a variety of floral, paisley and other artistic motifs. Some of the popular traditional motifs are: bhomra (bumble bee), tabij (amulet), rajmahal (royal palace), ardha-chandra (half moon), chandmala (garland of moons), ansh (fish scale), hathi (elephant), nilambari (blue sky), ratan chokh (gem-eyed), benki (spiral), tara (star), kalka (paisley) and phool (flower). Printed, hand-painted and embroidered patterns are also used to get a larger variety of designs. Different motifs including floral element, solar element and recently even modern art are depicted in this saree. Tant Saree comes with colourful design and borders are made thicker.
Click Here to Shop Tant Sarees
Bengal Cotton Sarees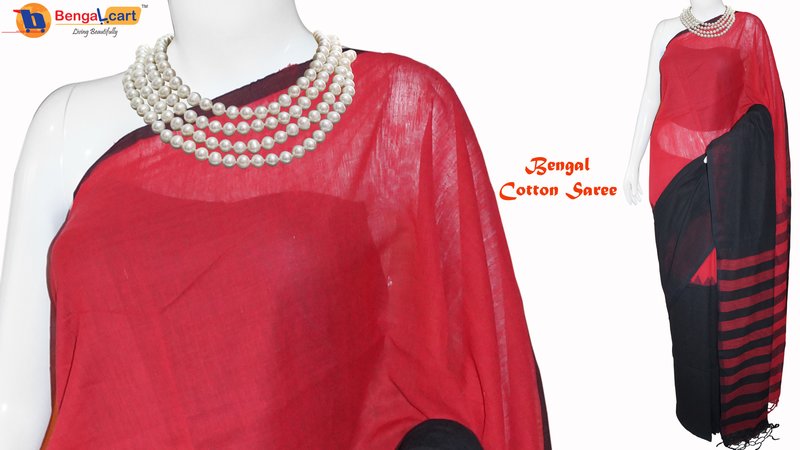 Bengal Cotton Sarees: These are the latest trend made of the finest cotton, these sarees are not starched hence have a soft flowing elegance. Can be draped with ease, these sarees comes in more modern & contemporary motifs and texture to provide chic cool urban look. New experiments are being carried out with yarn combinations like silk, wool, jute, linen and cotton. These Sarees are extremely comfortable, soft and easy to manage and maintain. These Sarees can be sported in any occasion formal or informal with élan.
Click Here to Shop Bengal Cotton Sarees