How to take care of your Silk Sarees
authored by Bengalcart on 11.05.2017
Correct care will ensure that your silk Saree will last for years without losing their quality. A few important rules need to be observed as silk is a natural fibre and cannot be treated like a synthetic fibre.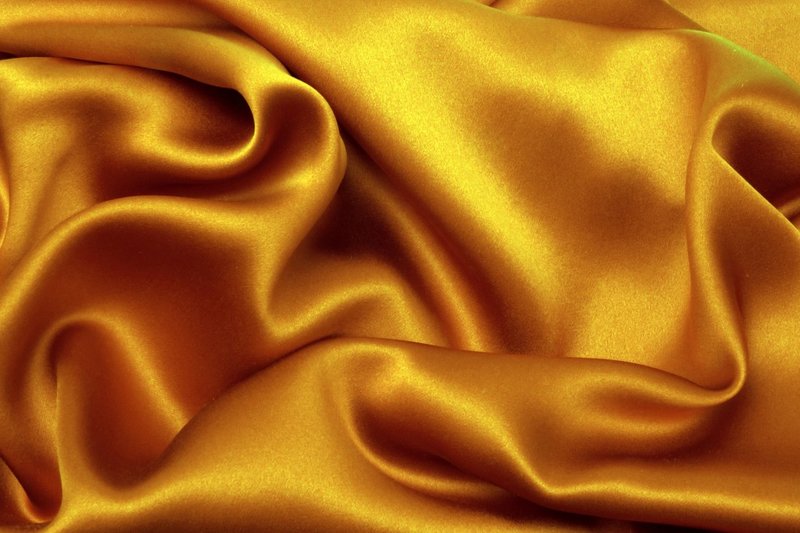 Please pay special attention to the following instructions:
Never spray silk with perfume or deodorant - Substances containing alcohol will damage silk fabric. So, let your perfume and hairspray dry before dressing

Never use Washing Machine for Silk Sarees

Never bleach silk - Do not use chlorine bleach to clean silk; chlorine will damage the silk fabric

Never expose silk to direct sunlight for longer periods of time

Don't spray silk with water while ironing

Don't treat individual stains with water

Always iron the backside only

Never wring dry
SILK CARE : DRY CLEAN
We generally recommend to Dry Clean Silk Sarees as the service is left for professionals to do & you are tension free

However, it is good to be aware of some of the best practises associated with Dry Cleaning

It is preferred that you opt for green dry cleaners or organic dry cleaning services (if available in your locality)

They use safer and non-toxic methods such as liquid CO2 or silicone based solvents. They are the best & most effective form of Dry Cleaning

If that is not possible, then just be a bit more careful with normal dry cleaning where they use Perchloroethylene (commonly known as PERC) – this is the most commonly used solvent in the dry-cleaning business. It is highly toxic and carcinogenic.

Any Sarees dry cleaned from such chemicals should be left in an outdoor airy environment for some time so the fumes fully leave the Sarees
SILK CARE : HAND WASHING TIPS
In contrast to the widespread opinion that silk can only be dry cleaned, silk products can be washed by hand without being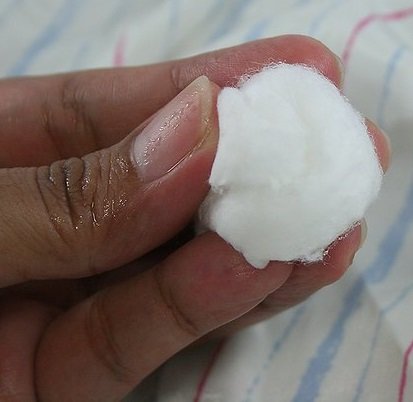 damaged. Just follow the rule below:
Determine if the colour will fade or run. Spot test the silk fabric by blotting a water-moistened cotton ball on a hidden point in the Saree, such as the part which is tucked in to the waist. If the colour does not fade or come off onto the cotton ball, the Saree is safe to hand wash

Use a mild soap or specially formulated silk shampoos

Wash Silk Sarees separately (not with other clothes)

Use only Cold water for washing

Wash Pallu, Border & Body Separately

Never use a Brush

Use 1 drop of conditioner during washing (if detergent or shampoo is used, not needed if Reetha is used as it has natural conditioning property)

Gently move the fabric during soaking from side to side. (Do not wring)
Handle wet silk with even greater care as it is very delicate

After a maximum of 5 minutes remove silk from water and rinse the fabric with cold water adding a tea spoon of vinegar to completely rid it of the soap

Wrap silk in a dry towel to remove the remaining liquid. Use several layers when using dark or printed silk

Roll out the silk and straighten it gently at the corners

Drying Tips – See Below

Ironing Silk – See Below
Observe these considerations and you will enjoy your silk products for a very long time.
Never Wring Dry a Silk Saree

Take the Help of someone to hold ends up

Gently stretch to minimise wrinkles

Fold your Saree in Half & Hang on to dry. The silk Sarees will hold its shape

As with any fine fabric, NEVER use direct sunlight to dry silk clothing. Doing so can damage the silk fibre and fade the color. Wet silk may yellow in direct sunlight

NEVER Dry Silk Sarees in a Dryer
If necessary, press the Silk Sarees inside out while damp using cool iron setting ("Silk" setting on the iron)

Do not wet locally as this may cause rings

Too much heat can dull, pucker, or burn silk fabric

Most wrinkles in silk can be removed by hanging the Sarees in the bathroom during a shower. Let humidity do the ironing for you!
SILK CARE: WRINKLE REMOVAL TIPS
Minor silk wrinkles should disappear if the Sarees is hung overnight

Stubborn wrinkles can be removed with a cool iron set on "silk"

Better yet, hang your silk Sarees in the bathroom during a shower. Humidity will remove the wrinkles for you
SILK CARE: STAIN REMOVAL TIPS
Please consult with your Dry Cleaner

As with all fine fabrics, NEVER use chlorine bleach on silk, as it will erode the fibre (not to mention the fabric discoloration)
Pack your silk Sarees as you would any other clothing. Simply hang the Saree after unpacking. Minor wrinkles should disappear overnight

Better yet, hang your Saree in the bathroom during a shower. The humidity will remove the wrinkles for you.
**************************************************************************************************************************************
More to a Colour than meets the eye!
authored by Bengalcart on 26.03.2017
Colour is much more than just a visual stimulus. It is all about conveying emotions! Jean Baptiste Simeon Chardin - the 18th century French painter said & we quote, "who told you that one paints with colours? One makes use of colours, but one paints with emotions". Colour has always been one of the very powerful & efficient tools to communicate emotions, much more than words. The brain can process images 60,000 times faster than it can process words. In an instant, an image can convey an idea or an emotion which will stick with you much longer than the words. And therein lies the power of colours!
In this article, we will attempt to share the popular emotions that are evoked with some of the key colours. We will talk about the "what part" (the emotions evoked by the colours) & not the "how part" (how these emotions have come to be associated with the colours), we keep that discussion for some other day!
Before getting there, let us have a brief preview on the fundamentals of colour. There are 3 primary colours Red, Yellow & Blue. These colours cannot be created by combination of any other colour. All other colours are formed by the combination of these 3 colours. Illustrated below are some examples of some popular colours & how they are formed - all the colours that we experience are created likewise
Red & Blue gives Purple

Blue & Yellow gives Green

Red & Yellow gives Orange

Red, Blue & Yellow in equal intensity gives White

Subtracting Red, Green & Blue from White gives Cyan, Magenta & Yellow. Mixing these 3 gives Black
Now let us see what are the emotions evoked by some of the popular colours. The colours covered here are Red, Yellow, Blue, Green, Purple, Orange, Pink, Black & White. These emotions are a compilation of what people across geographies, religion, language exhibit so it is universal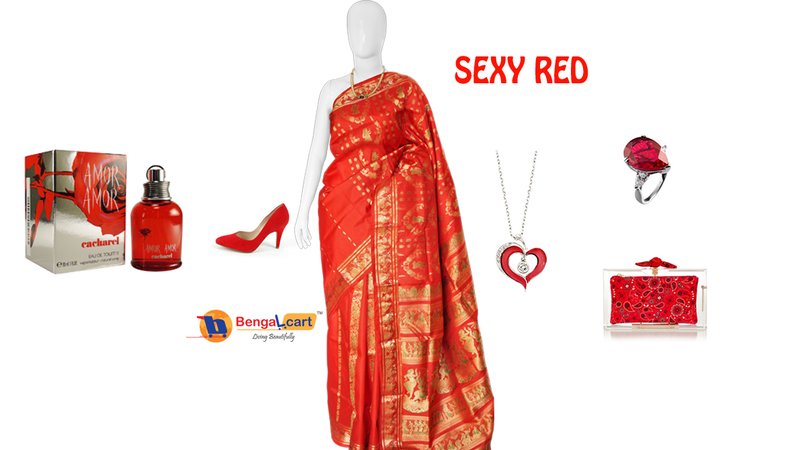 RED is an extremely dominating colour. Red reflects energy & can motivate an individual to take action. Used as an accent colour, it can stimulate people to make quick decisions & increase expectations creating a high arousal threshold. Truth, Strength, Courage, excitement, Creative Energy, Desire, Danger, Power, Speed, Passion, Love, Lust, aggression, heat & fire. It represents all things intense & passionate. The preference for red is linked to economically secure & stable people who are achievers in society. People liking Red trend to say on top of things with a passion and zest for life. Routine can drive red people "up the wall" since they crave excitement for life.
An ideal ensemble
reflecting the magic of Red would be the
Royal Swarnachari Silk Saree
Red Crimson Swarnachari Silk Saree
, dash of
Amor Amor
, platinum jewellery with ruby pendant and rings, red high heels and a matching Red Clutch. A perfect ensemble for an outstanding evening!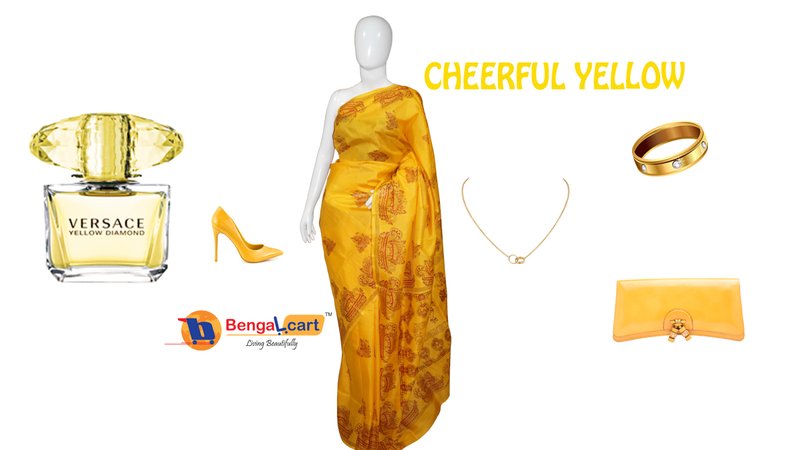 YELLOW is the colour of sunshine. It is associated with Joy, Happiness, Intellect & energy. It produces a warming effect, arouses cheerfulness, stimulates mental activity and generates muscle energy. Yellow is very effective for attracting attention. Against a black backdrop, yellow stands out the most.
An ideal ensemble reflecting the Spirit of Yellow would be gorgeous Bishnupuri Silk Saree Mustard Bishnupuri Silk Saree, dash of Versace Yellow Diamond, gold jewellery with diamonds, Yellow High heels and a matching Yellow Clutch. A perfect ensemble for an joyful afternoon party!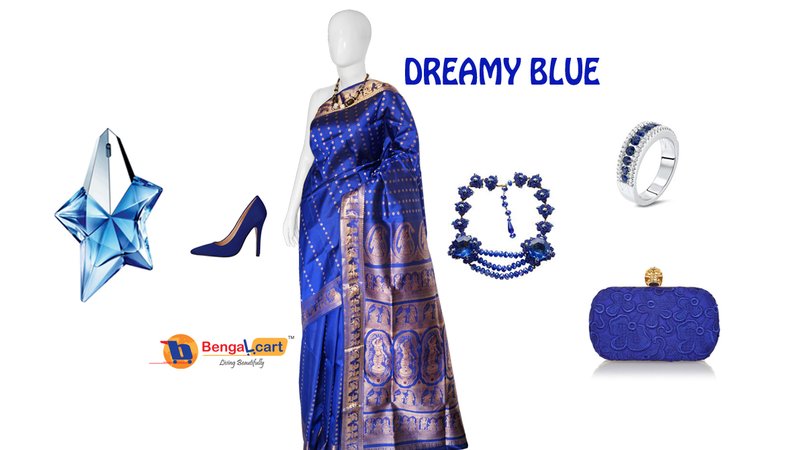 BLUE is the most calming colours and is often associated with the sky & the sea. It evokes peaceful feelings. It is regarded as therapeutic to the mind and body. The colour Blue connotes Trust, Wisdom, Tranquillity, Love, Confidence, reliability, belonging, coolness, quiet, truth, seriousness, serenity, patience, perseverance, intelligence, unity, reassurance, solitude, hope, generosity, cleanliness, order, cold & loyalty. People who like Blue are sensitive to the needs of other & form strong attachments
An ideal ensemble reflecting the serenity of Blue would be the Royal Swarnachari Silk Saree Indigo Blue 2000 Buti Swarnachari Silk Saree, Mesmerizing with a tender, gourmand trail dominated by patchouli in Angel, platinum jewellery with blue diamonds and matching blue high heel and clutch to complete the look. For that special evening with the special person!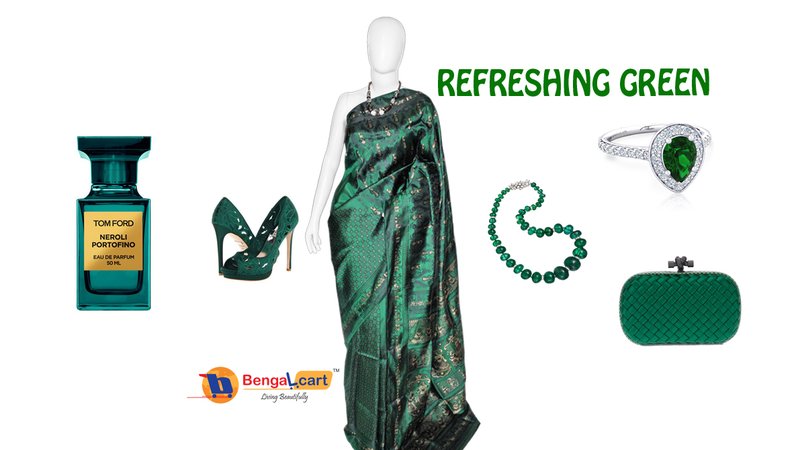 GREEN is a combination of blue and yellow. The blue qualities represent peace and tranquillity, while yellow brings happiness & light hearted feelings to this colour. Green connotes Health, Wealth, Spring, Calm, Sympathy, Fertility, Life, New Growth, energy, Faith, Nature, Environment, Good Luck, Fresh, Youth, vigour, hope, cheerfulness, Abundance & Generosity. People who like green are usually balanced & stable individuals, good citizens, parents & neighbours. They are usually found involved in clubs & organisations. They have high moral values and tend to do the right things.

An ideal ensemble reflecting the energy of Green would be the elegance of a Swarnachari Silk Saree Dark Teal Swarnachari Silk Saree, splashed in the freshness of Aromatic Citrus Neroli Portofino by Tom Ford , Emerald Jewellery and matching Green high heel and clutch to complete the look. A connoisseur of eclectic taste!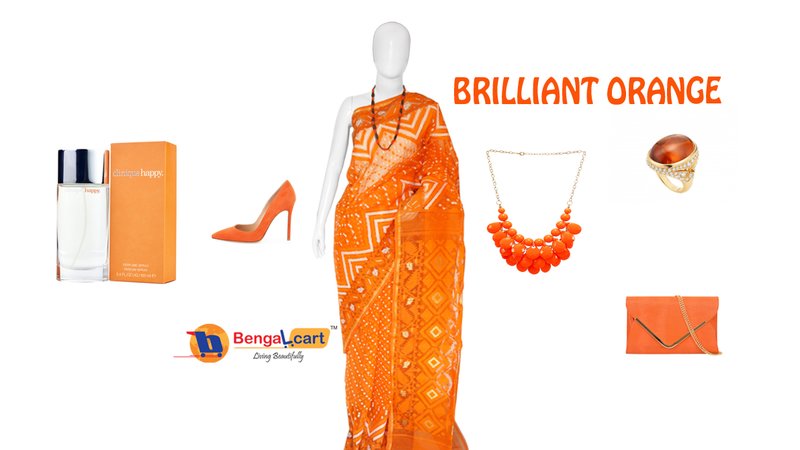 ORANGE is the most stable & reassuring of the earth tones. It connotes Vibrant, Warmth, Energy, Balance, Enthusiasm, Flamboyance, Creativity, Courage, Joy, Love of People, Expansive, Extroverted, Good natured, Determination & Demanidng of Attention. People who love this colour work and play hard!
An ideal ensemble reflecting the Flamboyance of Orange would be the glamourous Jamdani Saree Orange & White Full Body Jamdani Silk Saree, splashed with the lingering floral fragrance of Clinique Happy, Beaded Jewellery with matching footwear and clutch. Gifting oneself the exuberance of life!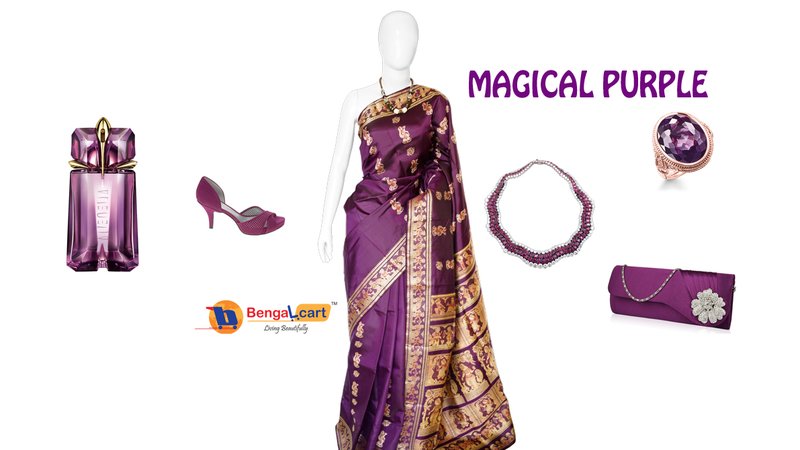 PURPLE combines the stability of blue and the energy of red. It is associated with royalty. It symbolizes Power, Nobility, Luxury & ambition. It conveys wealth and extravagance. Purple is associated with wisdom, dignity, independence, creativity, mystery and magic. Almost 75% children prefer purple to all the other colours. Light purple evokes romantic and nostalgic feelings.
An ideal ensemble reflecting the Royalty of Purple would be the gorgeous Baluchari Silk Saree Purple & Gold Baluchari Silk Saree, splashed with the positive energy of floral woody amber fragrance of Alien, Quartz Jewellery with matching footwear and clutch. Royal Disposition at its best!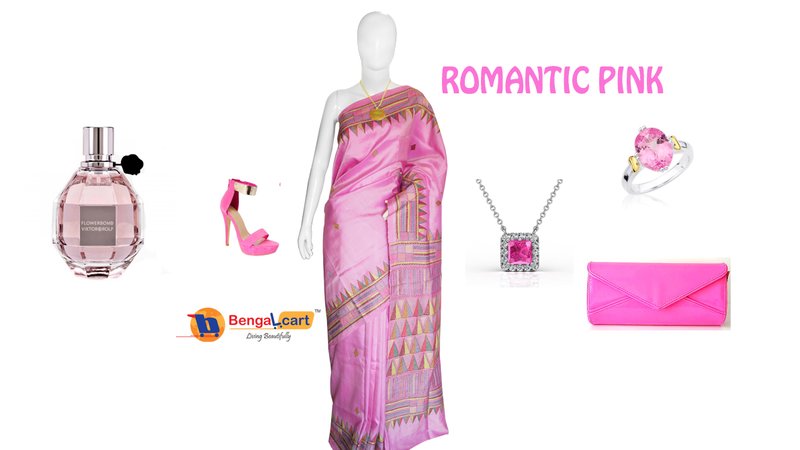 PINK is a delicate colour that means sweet, nice, playful, cute, romantic, charming, feminine and tenderness, is associated with bubble gum, flowers, babies, little girls, cotton candy. This is the colour of universal love of oneself and of others. Pink represents friendship, affection, harmony, inner peace and approachability. Pink is the "official colour" for little girls and represents sugar and spice and everything nice.
An ideal ensemble reflecting the Romantic Pink would be the ethnic Kantha Silk Saree Pink Kantha Silk Saree, splashed with the explosive bouquet of fresh & sweet notes of bergamot & green tea at top with a opulent heart fragrance of Flowerbomb, White gold jewellery with matching footwear and clutch. Romance is round the corner!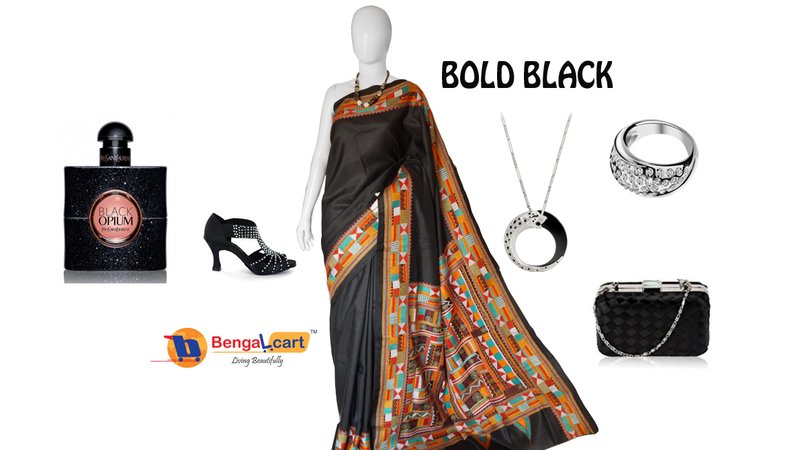 BLACK is classically used as an accent for Jewel tones and rich metallic Gold. It is rich and affluent. Black connotes Power, Elegance, Sophistication, Formality, Wealth, Depth, Style, Mysterious, Seductive & Sexy. People who like Black are Confident, Sophisticated & very Dignified. When worn by people with lighter hair colour, it is an indication of inner strength and determination.
An ideal ensemble reflecting the Power of Black would be the Sensuous Kantha Silk Saree Black & Colour Fusion Kantha Silk Saree, splashed with the fascinating & seductively intoxicating coffee & vanilla reclining on white florals fragrance of Black Opium, with Platinum Jewellery with diamonds, matching footwear and clutch completing the look. An evening of tantalising suspense!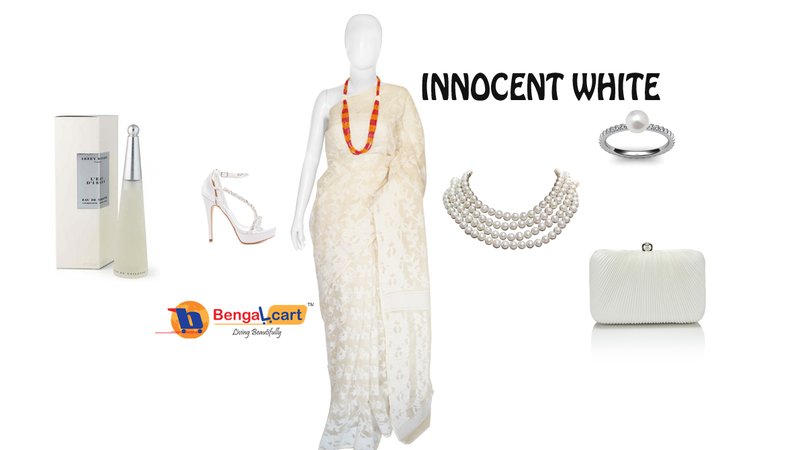 WHITE is sublime elegance in its purest form. The colour White connotes Cleanliness, Purity, Chastity, Virginal, Youth, Simplicity, Clean, Immaculate, Fresh, Bright, Reverence, Peace, Humility, Precision, Innocence, Birth, snow, Winter, Mild & spirituality. People who prefer white tend to be neat and immaculate in their clothing and homes. White lovers are inclined to be cautious buyers and shred business people, but are critical and fussy. White can signify a self sufficient person.
An ideal ensemble reflecting the Innocence of White would be the glamourous Jamdani Silk Saree White Full Body Jamdani Silk Saree, splashed pure floral with musky & woody tones fragrance of L'Eau d'Issey - Issey Miyake, Pearl jewellery with matching footwear and clutch. Awakening of your spirit with divine solitude!
Tags:
#Blogs #Colour #Emotions #Bengalcart

**************************************************************************************************************************************

Bengalcart.com's rendezvous with "Times Fashion Jalsa 2017"
authored by Bengalcart on 11.02.2017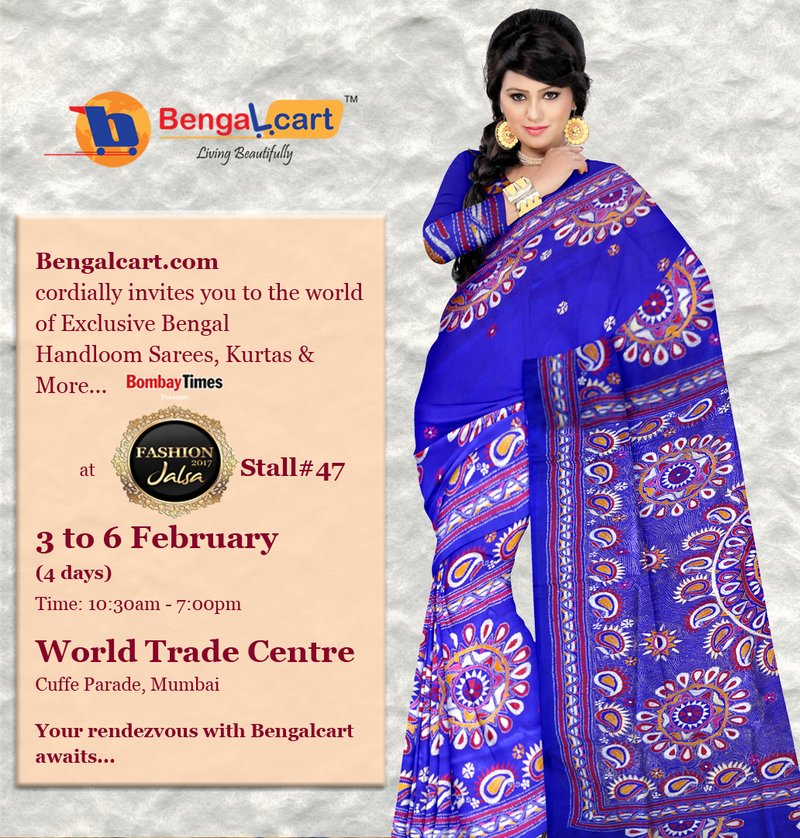 Bengalcart.com was happy to participate in the 12th edition of "Times Fashion Jalsa" (held between 3rd to 6th Feb, 2017) presented by Bombay Times at World Trade Centre, Cuffe Parade, Mumbai. This exhibition over the years has caught people's imagination with its wide array of exhibitors ranging from Clothing's, Ethnic Wear, Jewellery, Home Décor, Kids wear, Accessories almost everything to do with Fashion under a single roof. As it is held in the prime location of south Mumbai, housing offices & residences, people across the city & far come to this exhibition which makes for an extraordinary extravaganza for the 4 days of the exhibition. People are Happy coming & shopping their favourites & having a great time with so much to do.

Bengalcart.com just completed its first year of business in the online space and we are extremely happy to say that it has been a very special year for us. The year saw us through with phenomenal responses from our Dear Customers far & near. We are today not only shipping our products Pan-India but also to the United States! We thought, it would be exciting to participate in an exhibition of Times Fashion Jalsa's stature "to test our mettle in live". We wanted to know first-hand customer's reaction to our products as they can see, feel & touch the products. We basically wanted to learn from our customer's in areas where we need to improve as that has been the single mantra from Bengalcart's inception and will be all through in the future as well! And we must say, learn we did and it was extremely pleasant!
People came in huge no's into stall #47 of fashion Jalsa – house of Bengalcart.com for the 4 days. It was veni, vidi, vici for them! They came, saw & bought (conquered) the Bengalcart Products! From the exotic Swarnachari & Baluchari Silks, Gorgeous Kantha Silks, Mesmerizing Bengal Tant, Superlative Jamdanis, Suave Bengal Handlooms & Bengal Cotton, Pristine Silk Kurtas & Much more. Mothers came with their daughters, Husbands came with their wives, Working Ladies came with their Fiancés, Friends walked in together and left happily shopping! It was wonderful to see the smiling faces.
There were lots of Positive customer response from the customers.
We quote below verbatim some of them:
"Sundar Apratim"
"Wow!"
"Excellent Sarees"
"Gorgeous"
"Very Good & Lovely Collection"
"Excellent Customer Service with brilliant Collection"
"Exclusive Stuff"
"Fantastic Selection & Truly Traditional & Exquisite - Great Customer Service"
"Please let me know your website & we will shop from there also"
"We now have the website where we will do the Puja Shopping"
"Great to know you are promoting handlooms - we love handlooms"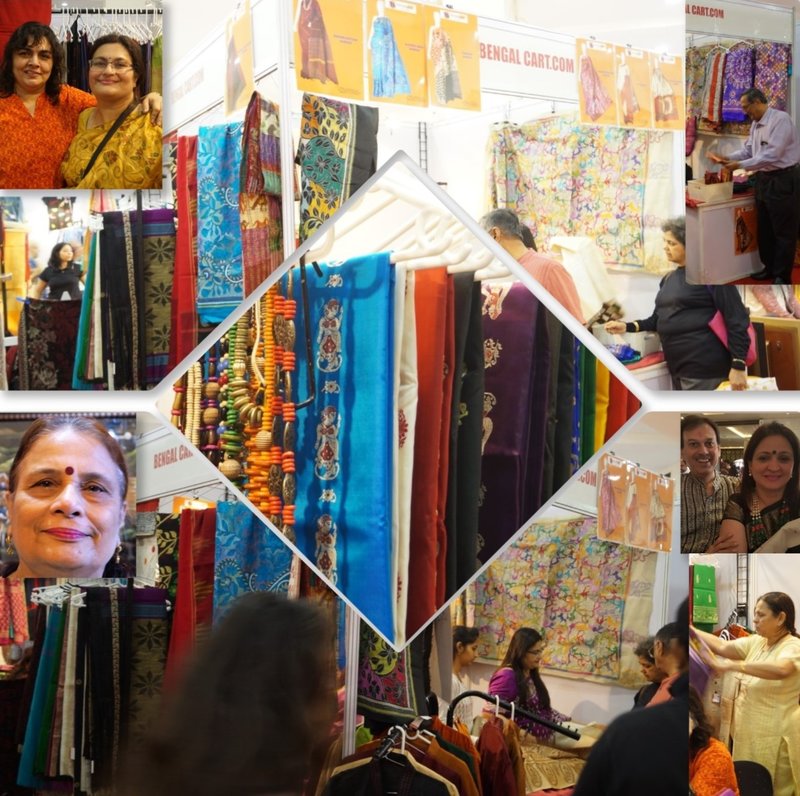 Overall it was a mood of Celebration & Gaiety! It was extremely heartening to see the spontaneous appreciation people has for Handloom Products. Our experience far outreached the expectations which was extremely humbling! Our thoughts went to our weaver brethren who toils so hard & puts all of their lives in creating such masterpieces. We truly feel proud that we could present their "hard work" to an appreciative audience. This also made us resolve to do something meaningful for the weavers which we will do!
This is just the beginning & we hope to participate in many more such "Direct Customer Contact Programmes" (DCCP) as we move along, not only in Mumbai but in other cities of India & beyond. We would like to Thank one & All of our Dear Patrons for sharing their time & Insights with us!

We always welcome your comments, feedback to serve you better! Pls. write to us with your comments at customercare@bengalcart.com

Cheers from us All at Team Bengalcart!
Tags:
#Blog #Exhibition #Fashion #Handloomsarees #Sareesonline #onlineshopping #Bengalcart
**************************************************************************************************************************************